How do you ensure your model is working as it should in production? With Aporia you can track real-time model performance and create customized monitoring to detect any issue that may arise in production: data drift, performance degradation, unexpected bias, or data integrity issues. And we're always looking for new ways to provide even more visibility, monitoring and investigation for your models in production.
We're excited to announce that we've partnered with New Relic's observability platform to provide full visibility for the entire ML pipeline fully integrated with your entire software stack, all in one, centralized platform.
Taking Model Management to the Next Level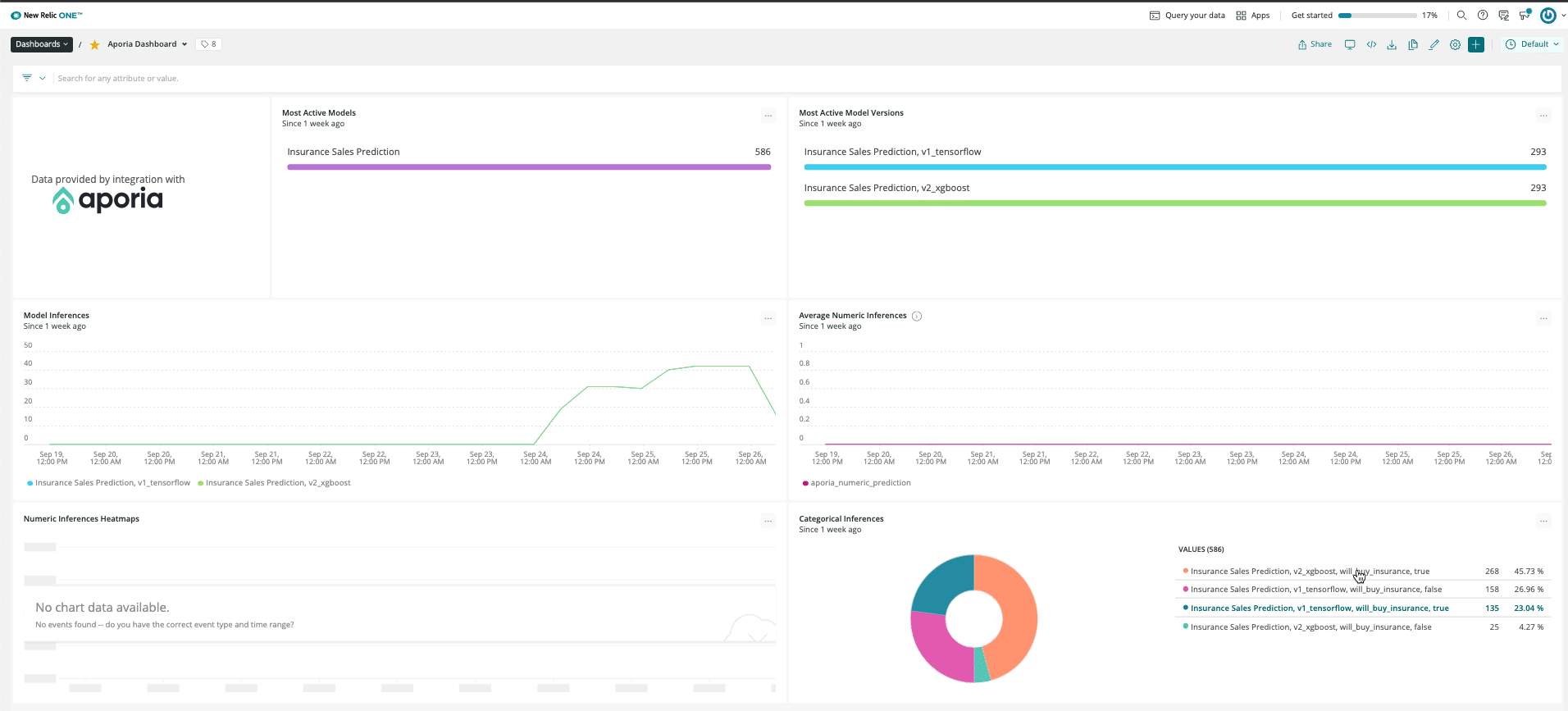 Aporia's new integration with New Relic's Incident Intelligence Engine enables data scientists and ML engineers to receive a combination of custom and smart alerts integrated cross-platform, providing a broader picture of the ML infrastructure and an easier way to resolve issues more quickly.
It only takes a few minutes to set up and once integrated, you will have full access to a customized ML monitoring dashboard in New Relic. The dashboard contains six different charts: Most Active Models, Most Active Model Versions, Model Inferences, Average Numeric Inferences, Numeric Inferences Heatmaps, and Categorical Inferences for a comprehensive inferences investigation for all your models in production.
This integration also supports monitoring for almost all model use cases, including: fraud detection, NLP, Recommendations, Sales Forecast, Churn Prediction, Lead Prioritization, and Tabular Data.
By leveraging New Relic Alerts and Applied Intelligence, you will be able to monitor and manage alerts for all your operational needs.  Find, troubleshoot, and resolve problems faster and automatically detect anomalies and combine related alerts and incidents to enable root cause analysis for any operational issues that may arise, even beyond the model itself.Adding Aporia to
Adding Aporia to New Relic to Track Machine Learning Model Performance is Simple
How to Set Up the Aporia-New Relic Integration
Here's a quick demo that shows exactly how to integrate Aporia with New Relic to connect all alerts and inference data from Aporia to New Relic's Incident Intelligence engine, within the New Relic platform.
For additional information, you can also see our step-by-step technical guide for a full walkthrough of the process or Aporia's documentation.
Once you combine the powers of Aporia and New Relic, you will have 100% visibility to your entire ML infrastructure. Congratulations!
New to Aporia or New Relic?
With both Aporia and New Relic, you can sign up for free to start using their platforms. Sign up to Aporia's free community plan to begin building customized monitoring for your models in minutes.