Building an ML platform is nothing like putting together Ikea furniture; obviously, Ikea is way more difficult. However, they both, similarly, include many different parts that help create value when put together. As every organization sets out on a unique path to building its own machine learning platform, taking on the project of building a machine learning infrastructure is a huge one that can end up costing a lot of time and resources. Additionally, maneuvering through the convoluted space of MLOps and open-source tools can be quite tricky and confusing. By combining the powers of ClearML and Aporia, data science and ML teams around the world, for the first time, can enjoy access to a true full-stack, end-to-end solution out-of-the-box.
In this piece, we'll cover how organizations can perfect their ML pipeline by leveraging ClearML to build, train, and serve their models, and Aporia to monitor, explain, and improve those models once they hit a production environment. 
Background
Data scientists are the ones rigorously working to turn a business stakeholder's "want" into an actual application that drives value – from rapid prototyping to full-blown production models. Seems simple, right? Quite the contrary. Numerous hours of labor and research go into bringing these models to life, and in order to build a unique model that answers a unique KPI, data science teams go through multiple stages until the model can be declared a success. 
Let's say you want to build a regression model to successfully forecast consumer product demand for an upcoming holiday. Easy – you start with data experimenting and tracking, next organizing and orchestrating, and so on until your model is ready for production. With so many different parts and tools, it's easy to find yourself investing too much time into learning how to use these different tools. But, does each stage require a new tool? Probably not! You wouldn't have each separate car part detailed at a different shop, right? What data science teams really desire is a one-stop-shop, end-to-end solution that supports their journey from training to production throughout the entire ML value chain. 
Read below to see how ClearML and Aporia can help you declutter the number of outdated tools and frameworks you use, and how to employ a reliable and true end-to-end solution to achieve your ML goals. 
What is ClearML?
Software development teams have already embraced the CI/CD automation approach, realizing its inherent acceleration of the R&D process. In order to bring the same scale and acceleration into ML development/production, companies need to go through a similar process, only with more complex multi-faceted challenges of end-to-end ML automation. That's where ClearML comes in.
ClearML is an open-source MLOps platform that automates and simplifies developing and managing machine learning solutions for thousands of data science teams all over the world. It is designed as a frictionless, end-to-end MLOps suite allowing customers to focus on developing their ML code and pipelines, while also ensuring their work is automated, reproducible, and scalable.
With ClearML, companies can easily develop, orchestrate, and automate ML workflows at scale. The company's unified platform offers the following features:
Experiment

– enabling customers to

track and automate everything. With ClearML, they can log, share, and version all experiments and instantly orchestrate pipelines.

Orchestrate

– offering

orchestration to DevOps and automation to Data Scientists, giving them autonomy and control. 

DataOps

– providing data store automation and automating

 data collection into searchable, accessible, and ML-ready data repositories. The company also offers

Hyper-Datasets

so customers can build data-centric AI workflows and optimize their unstructured data using queryable datasets.

Deploy

– CI/CD for model deployment, unifying model repository, custom pipelines, and model serving.
What is Aporia?
Once a model is deployed into production, the data science and ML teams' job is far from over. This is where Aporia enters the flow. Aporia is a full-stack, customizable ML observability solution that empowers data science and ML teams to trust their AI, enabling them to monitor, explain, investigate, and improve their production models in minutes. 
A variety of issues can surface when a machine learning model meets the real world for the first time. From data and concept drift to performance degradation and model decay. If left unchecked, these ML faults can turn aspiring ML goals into a major ML headache. 
As organizations emphasize inclusion and diversity in both product and culture, it's critical that their machine learning models make predictions without bias. ML monitoring empowers companies to meet their fairness goals, and ensure that unintentional bias outcomes are tracked, alerted, and remediated before impacting the business or the end users.  
Technical debt, revenue loss, and unintentionally biased outcomes are just a few triggers that could send your model into turmoil. Model monitoring is essential to ensure that your model isn't producing garbage output, but rather generating invaluable ROI that helps you meet your KPIs, thus keeping your business stakeholders happy 🤗.
As different ML issues surface– like drift, model degradation, and more — Aporia enables organizations to focus on the observability trifecta: 
Customizable Model Monitoring

– Create your own use case specific monitor to fit your needs, with dynamic widgets and customizable metrics – get live alerts when your model drifts or performance degrades.  

Visibility

– See all of your models under a single pane of glass. Create tailored dashboards that can be accessed by relevant stakeholders throughout your organization. 
Investigate & Explainable AI

– Get to the root cause of any issue, trigger workflows to help remediate problems, play out "what if" simulations with Aporia's Explainable AI, and give actionable meaning in the human readable text to your model predictions for business stakeholders. 
When looking to scale your automation infrastructure, implementing a dedicated and reliable ML observability solution, like Aporia, ensures you're practicing Responsible AI and that your models are driving ROI. Additionally, teams that utilize Aporia's ML observability release themselves from managing simple model analytics, allowing them to focus on what they do best – build more models to easily monitor with Aporia 😉
Feel like you got the idea and want a personal guided tour of the Aporia solution? Book a demo, and someone from our team will contact you for a 1-on-1 dive into Aporia's world of customizable ML observability.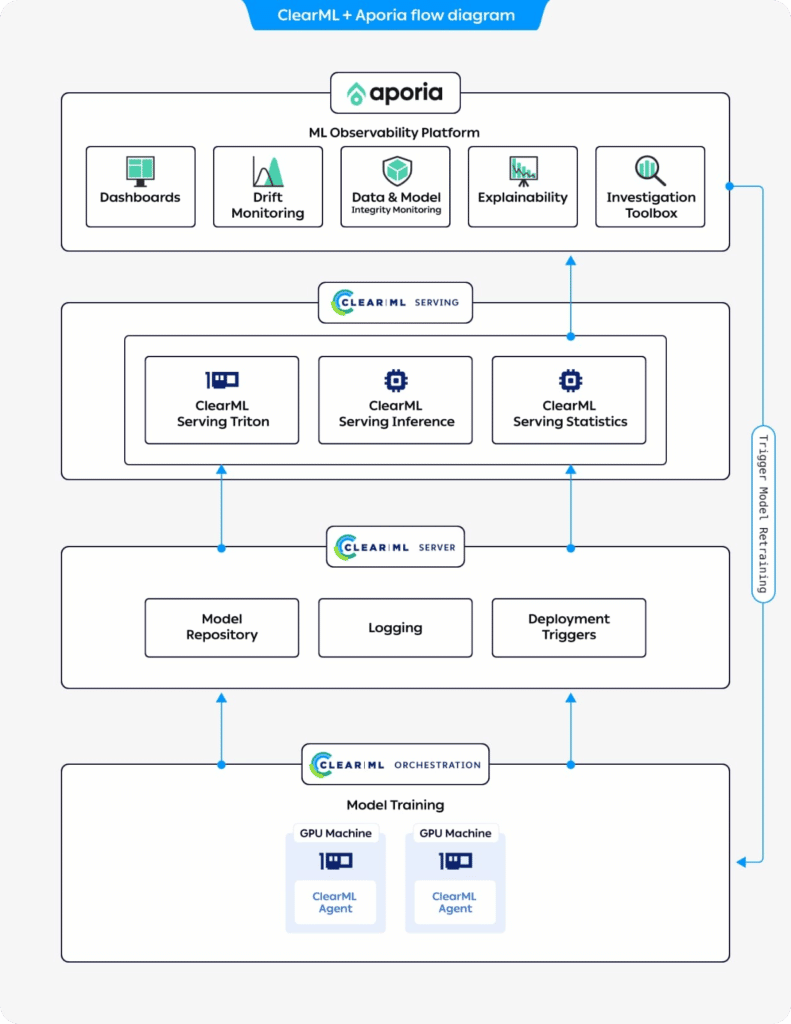 New to Aporia or ClearML?
With both Aporia and ClearML, you can sign up for free to start using their platforms. Sign up to Aporia's free community plan and start building customized model monitoring in minutes.
Already have ML monitoring on your priority list, and thinking of building your ML monitoring system in-house? Check out our "Build vs. Buy" ebook, and understand the accompanying costs, open-source tools, and resources you might need to finalize your decision.